Sale!
Ram Jet 350 (351 hp) Connect & Cruise Powertrain System with 4L65-E Automatic Transmission
Ram Jet 350(350 cu. in.) 351 HP Engine
Calibrated Engine Control Module
4L65-E Four-Speed Automatic Transmission
Vintage Style with Modern Performance!
REBATE AVAILABLE: $500/750 Prepaid VISA Gift Card From Chevrolet Performance. See 'Rebate' tab below for details.
Due to world events we are working with our manufacturers every day to ship and receive parts. If the part you are looking for is time sensitive please give our team a call at 855-806-1147 before ordering to ensure it's availability.
Ram Jet 350 Connect & Cruise with 4L65-E Transmission
Engine Specs:
Ram Jet 350 (350 cu. in.)
351 hp @ 5,000 rpm
403 lb.-ft. @ 3,600 rpm
9.0:1 compression ratio
64 cc iron Vortec heads (1.940 intake / 1.500 exhaust valves)
1.6 ratio roller rocker arms
.460 intake / .481 exhaust camshaft lift
Transmission Specs:
4L65-E four-speed automatic
Five-pinion gearsets
3.06:1 first gear ratio, 0.70 overdrive ratio
30.75 inches long (approx)
More about Connect & Cruise Crate Powertrain Systems
The Complete Performance Package!
When it comes to factory-engineered performance and convenience, nothing beats Chevrolet Performance's industry-exclusive Connect & Cruise powertain systems. With one package you get the engine and automatic or manual transmission and, we deliver it for less than the cost of buying the components separately.
Our engineers matched the engines and transmissions for optimal performance and durability, so you can wring out every horsepower with total confidence! The specially calibrated controllers for fuel-injected engines are designed for retrofit installations in older vehicles, for easier and quicker installation – and more importantly – operation without the need for third-party tuning.
Chevrolet Performance pioneered the performance crate engine, so when it comes to performance innovations that save time, money and guesswork, we once again lead the way! All you have to do is install, connect, and start cruising!
NOTE: All components, engine, transmission, controllers and installation kits (where applicable) are ordered and delivered separately.
NOTE: GM ships the Ram Jet 350 with a flywheel, and the Transmission Installation Kit does NOT include a flexplate or flexplate bolts. Please order P/N 14088761 and QTY. = 6 of 3727207.
Additionally, all engines require a front-end accessory drive system. The instructions included with each kit lists recommendations and Chevrolet Performance offers several configurations to suit different applications that also allows the installer to easily delete air conditioning.
Ram Jet 350 Connect & Cruise with 4L65-E Transmission
CPSRAMJET3504L65E System Components:
19417619 Engine (Includes MEFI 4 Engine Controller and Wiring Harness)
19368611 Transmission
19299800 Torque Converter
19332775 Transmission Control System
19332781 Transmission Installation Kit
Vintage Style with Modern Performance and Overdrive efficiency!
Chevrolet Performance's Ram Jet 350 combines the classic styling of the original Rochester mechanical fuel injection system with modern performance and dependability of electronically-controlled port fuel injection. A perfect combination for a vintage Corvette, resto-mod Tri-Five, Pro-Touring muscle car or any hot rod! You get a pump-gas-friendly 9.0:1 compression ratio that is the product of GM's legendary Vortec heads combined with a durable rotating assembly inside of a brand-new 2-bolt engine block. Add to that a smooth hydraulic roller camshaft for great power and torque while providing great idle quality. The engine's unique Ram Jet intake plenum is only 9.75 inches tall so it can fit under hoods where other setups might not. It's all backed by the 4L65-E four-speed overdrive automatic, which enables great highway cruising performance and fuel economy, while retaining good off-the-line performance with the steep first gear. It is tough as nails too, with the durability of hardened internal parts and five-pinion gearsets.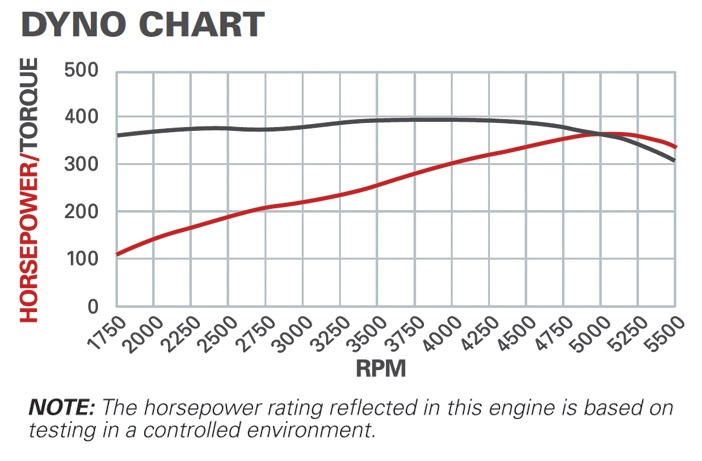 Ram Jet 350 Connect & Cruise with 4L65-E Transmission
Ram Jet 350 Connect & Cruise with 4L65-E Transmission
Chevrolet Performance Connect & Cruise Powertrain Systems include a 24-month or 50,000-mile (80,000 kilometer) limited warranty on all components.
This product qualifies for a $500/750 Rebate from Chevrolet Performance.
To receive the rebate:
Purchase a select Chevrolet Performance Connect & Cruise System between 11/1/2020 and 10/31/2021
Complete all information requested on this form and mail it by November 30th, 2021, OR
Submit your rebate online at www.gmpartsrebates.com before the same deadline
See rebate form for more details.
NOTE: Please allow up to 6-8 weeks for rebate processing.