Check Out This Flawless 1950 Chevy 2-Door Sedan Deluxe!
We love it when classic cars roll into our shop. For example, this 1940 Ford Deluxe turned every head in our shop, before and after we finished working on it. Know what we love even more? Classic cars with interesting stories behind them.
That's what Marri and her husband Robert brought to our shop: a gorgeous 1950 Chevy Deluxe with an interesting backstory.
---
The Car's Backstory
In 1975, Marri visited a church auction and stumbled upon what probably would be the best buy of her life. This beautiful 1950 Chevy Deluxe was on sale for only $900. It had only 31,000 miles.
Marri snatched it up and then used it as a daily driver for the next 4 years. The car came with a two-tone green color, which Marri didn't like too much. After about 15 years of owning this '50 Chevy Deluxe, Marri went to her father's body shop and had him paint it red. He used the same red paint as the paint you'd find on a 1986 IROC-Z Camaro. The gorgeous red paint garnered a lot of positive attention.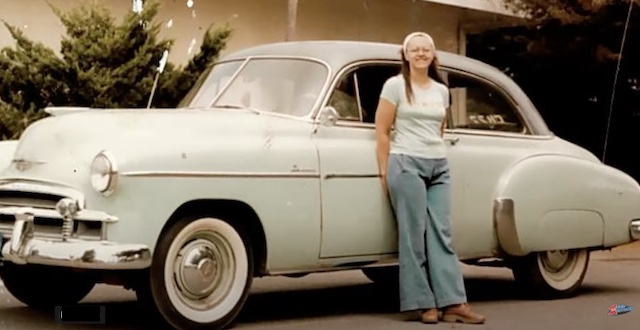 Once the car hit 80,000 miles, it stopped working. "[We were] coming back from Reno [when she] looked over at the odometer," Marri's husband Robert said. "It had just hit 80,000 miles. She said, 'boy, I hate to see it go over 80,000 miles.' [That's when the car] quit working. It never ticked another mile over on the odometer. It's locked up at 80,000 miles."
Both Marri and Robert did a lot of work on this car. They eventually brought it to our shop and asked us to finish what they started.
Restoring This Car To Its Former Glory
We rolled up our sleeves and then restored this Chevy Deluxe to its former glory with a variety of upgrades, including:
New speedometer
New air conditioning system
New brakes
Upgraded exhaust
New radiator
Electric fan
Repaired shifter
When we were done with this car, it was back in good working order. It now produces 353 horsepower, and it runs on pump gas! Robert and Marri were pleased with our work.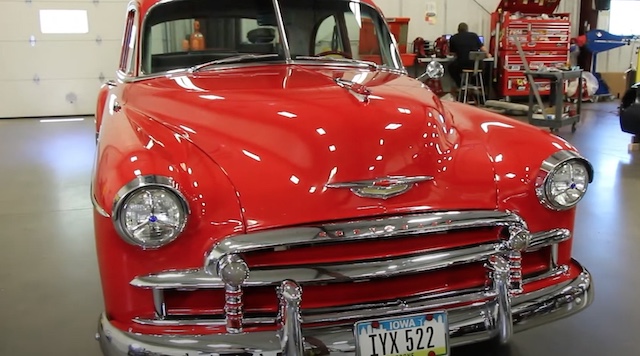 "We figured we'd be stuck having to do the wiring," Marri said after we explained that we were willing to do the wiring work for them.
"I really want to be able to drive coast to coast [in this car]," Marri said. "I think [Karl Kustoms] got it. They dialed it to what we wanted, which was being able to use pump gas."
"Yes, 87 octane that we can get anywhere," Robert added.
"Coming here [to Karl Kustoms] was the best thing we ever did," Marri said. "They made it so easy, and they listened to everything."