Sale!
Chevy Performance ZZ502/502 Deluxe Connect & Cruise Powertrain System – 508hp Engine with 4L85-E Automatic Transmission
ZZ502/502 (502 cu. in.)Engine
508 hp @ 5,800 rpm
580 lb.-ft. @3,600 rpm
Deluxe includes distributor, plug wires, starter, water pump, balancer and an aluminum intake with a Holley 870-cfm four-barrel carb
4L85-E Four-Speed Automatic Transmission
REBATE AVAILABLE: $500/$750/$1,000 Prepaid VISA Gift Card From Chevrolet Performance. See 'Rebate' tab below for details.
Due to world events we are working with our manufacturers every day to ship and receive parts. If the part you are looking for is time sensitive please give our team a call at 855-806-1147 before ordering to ensure it's availability.
ZZ502/502 Deluxe Connect & Cruise with 4L85-E Automatic Transmission
The ZZ502/502 is one of the industry's benchmark crate engines and is Chevy's most popular big-block. It offers excellent value with a proven combination of performance. With more than 500 horsepower and 580 lb.-ft. of torque, it demands your full attention. This one all-inclusive package includes the engine, automatic transmission, electronic controllers and all the necessary wire harnesses – all combined for less than the cost of buying the components separately.
Thanks to a combination of high-flow aluminum oval-port cylinder heads with 2.25/1.88-inch valves and a hydraulic roller camshaft designed to support low-rpm torque production, this torque monster tops the 500 lb.-ft. mark by approximately 2,500 rpm and doesn't dip below it until about 5,000 rpm. It also features a latest-generation block casting with four-bolt main caps and an all-forged rotating assembly for exceptional strength and durability.
Chevy's engines and transmissions are matched for optimal performance and durability, so you can push for every possible bit of horsepower with total confidence. Put this combo to work in your classic cruiser and enjoy a great balance of performance and efficiency. The specially calibrated controllers are designed for retrofit installations in older vehicles, for easier and quicker installation and for operation without the need for 3rd party tuning. The Deluxe package comes complete from the oil pan to the carburetor, including an HEI distributor, plug wires, starter, water pump, balancer and an aluminum intake topped with a Holley 870-cfm four-barrel carburetor.
Chevrolet's Connect & Cruise lineup includes several emissions-compliant E-ROD systems available in both automatic and manual. Each system is designed and calibrated to perfectly match the engine powertrain systems and is covered by a 24-month / 50,000-mile limited warranty. When it comes to performance innovations that save time, money and guesswork, Chevy crate engines and Connect-and-Cruise systems lead the way – just install, connect, and start cruising.
What's Included
The ZZ502/502 Deluxe Connect and Cruise package comes complete with:
Engine (19331579)
Automatic Transmission (19300175)
Torque Converter (19299805)
Transmission Controller (19332780)
Transmission Install Kit (19332784)
Two oxygen sensors and mounting bosses (for installation in the exhaust system)
Mass airflow meter and mounting boss (for installation in the air intake system)
Throttle pedal assembly (for use with the electronically operated throttle)
Assembled wiring harness w/ fuse box and necessary cam and MAP sensor jumpers
Oil pressure sensor that is compatible with the harness
Instruction sheet
NOTE: All components, engine, transmission, controllers and installation kits are ordered and delivered separately.
Important Notes
For a complete installation, the builder will need to source additional components to complete the engine assembly and get the vehicle running, including:
Fuel tank and fuel lines (re-circulating or returnless)
Fuel pump – 58 psi (400 kPa) for all engines except LSA, which requires 65 psi (450 kPa)
Air induction system that incorporates the mass airflow sensor
Additionally, this engine requires a front-end accessory drive system. The instructions included with each kit lists recommendations and Chevrolet Performance offers several configurations to suit different applications. Each allows the installer to easily delete air conditioning.
We also recommend the LS1 Engine Installation Guide P/N 88959384, which illustrates basic procedures and offers helpful tips on installing an LS engine into older vehicles.
ZZ502/502 Deluxe with 4L85-E Automatic Transmission Tech Specs
Engine Specs:
ZZ502/502 (502 cu. in.)
508 hp @ 5,200 rpm
580 lb.-ft. @ 3,600 rpm
9.6:1 compression ratio
110cc aluminum oval port heads (2.250 intake / 1.880 exhaust valves)
1.7:1 ratio stamped steel rocker arms
.537 intake / .544 exhaust
Transmission Specs:
4L85-E four-speed automatic
High-performance valve body and clutches
2.48:1 first gear ratio, 0.75 overdrive ratio
32.6875 inches long (approx.)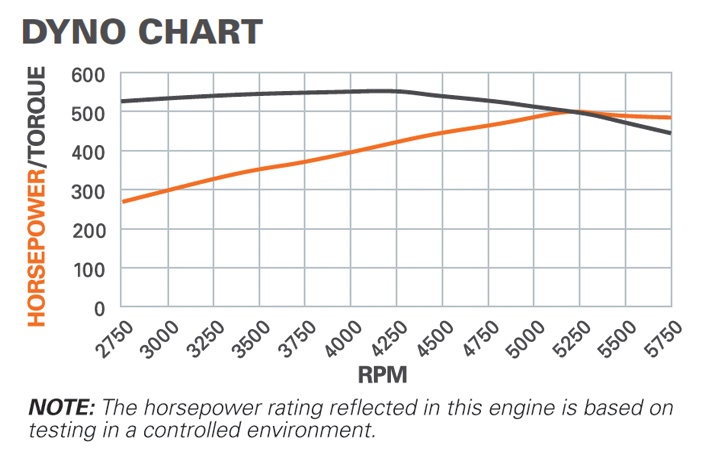 ZZ502/502 Deluxe Connect & Cruise with 4L85-E Transmission
ZZ502/502 Deluxe Connect & Cruise with 4L85-E Transmission
Chevrolet Performance Connect & Cruise Powertrain Systems include a 24-month or 50,000-mile (80,000 kilometer) limited warranty on all components.
This product qualifies for a $500/$750/$1,000 Rebate from Chevrolet Performance.
To receive the rebate:
Purchase a select Chevrolet Performance Connect & Cruise System between 1/1/2023 and 12/31/2023
Complete all information requested on this form and mail it by January 31st, 2024, OR
Submit your rebate online at www.gmpartsrebates.com before the same deadline
See rebate form for more details.
NOTE: Please allow up to 6-8 weeks for rebate processing.

WARNING
: These auto parts can expose you to chemicals including phthalates and lead. Installing or using these parts can expose you to other parts containing these chemicals and to engine exhaust, which are known to the State of California to cause cancer and birth defects or other reproductive harm. For more information go to
www.P65Warnings.ca.gov
.