All About The GM 350/265 Small Block
In case you haven't noticed, we added a new GM engine to our inventory: the GM 350/265 small block! Check it out:
---
---
This new small block engine is a basic entry level engine. Yet, you can load it up with many upgrades. It's designed to be a drop in replacement for 60s, 70s and 80s street rods. It's the ideal engine for old-school small block Chevy guys. It's not built for really high performance, but it's a solid engine for classic street rods. Are you looking for a performance-oriented Chevy small block? You can't go wrong with the 350/290 deluxe crate motor.
Karl Kustoms GM 350/265 Small Block Specs
If you're in the market for a GM 350/265 small block motor, you'll get the most bang for your buck at Karl Kustoms. It's because many other places sell 350 small block engines that are remanufactured, repurposed, etc. At Karl Kustoms, you'll get a brand new 350 block, plus other components.
This engine delivers 265 horsepower and 351 ft-lbs of torque. That is, after you add all the components it needs. When you buy a GM 350/265 small block motor from us, you'll get the following add-ons:
Four bolt crank
8.0:1 compression pistons
Two timing tabs and two little plugs for the timing tabs

If your vehicle has a stock engine, it has a 6-3/4″ balancer. The provided timing tabs will go with that balancer. If you have an 8" balancer on your vehicle, we have a timing tab for that as well. Whichever balancer you have on your vehicle, we have the correct timing tab for it.

Two piece rear main seal
This engine is drilled for either left or right dipstick tubes. You can use one of the plugs that comes with the engine to plug in the other hole.
All Karl Kustoms engines are dyno tuned and ready to install. You'll also get a 2-year, 50,000-mile warranty that's good at any GM dealer in the country.
Extra Options For This Motor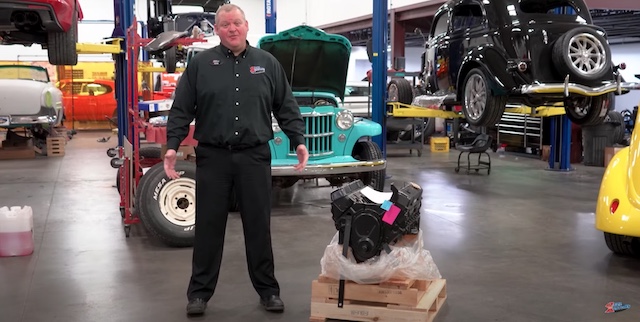 What's offered above is the bare minimum you'll get when you order your motor. If you wish, we can add more accessories to your motor for you. For example:
We can paint the engine for you. We use custom paint colors.
We can install the following parts and then some more:

Intake manifold
Carburetor
Fuel injection system
Front drives
Whatever you'd like to do to your engine, we can do that in house. Just let us know!
How To Order The GM 350/265 Small Block From Karl Kustoms
Are you interested in ordering this engine from Karl Kustoms? It's as easy as 1, 2, 3:
Head over to the product page
Place an order
Call us if you want any in-house work done on your engine, i.e.:

Paint your engine
Add components to it
Do you have any questions about this engine? Please call us or fill out this contact form.