Sale!
ZZ572/620 Deluxe Connect & Cruise Powertrain System with 4L85-E Automatic Transmission
ZZ572/620 Deluxe (572 cu. in.)Engine
621 hp @ 5,400 rpm
645 lb.-ft. @4,200 rpm
Deluxe includes carb, HEI distributor, aluminum water pump and orange powder-coated valve covers with the "572" lettering
4L85-E Four-Speed Automatic Transmission
REBATE AVAILABLE: $500/$750/$1,000 Prepaid VISA Gift Card From Chevrolet Performance. See 'Rebate' tab below for details.
Due to world events we are working with our manufacturers every day to ship and receive parts. If the part you are looking for is time sensitive please give our team a call at 855-806-1147 before ordering to ensure it's availability.
ZZ572/620 Deluxe (621 hp) Connect & Cruise Powertrain System with Four-Speed 4L85-E Automatic Transmission
Engine Specs:
ZZ572/620 (572 cu. in.)
621 hp @ 5,400 rpm
645 lb.-ft. @ 4,200 rpm
9.6:1 compression ratio
118cc aluminum rectangle port heads (2.250 intake / 1.880 exhaust valves)
1.7:1 ratio stamped steel rocker arms
.632 intake / .632 exhaust
Transmission Specs:
4L85-E four-speed automatic
High-performance valve body and clutches
2.48:1 first gear ratio, 0.75 overdrive ratio
32.6875 inches long (approx.)
More about Connect & Cruise Crate Powertrain Systems
The Complete Performance Package!
When it comes to factory-engineered performance and convenience, nothing beats Chevrolet Performance's industry-exclusive Connect & Cruise powertain systems. With one package you get the engine, automatic or manual transmission, electronic controllers and al the necessary wire harnesses. Even better, we deliver it for less than the cost of buying the components separately.
Our engineers matched the engines and transmissions for optimal performance and durability, so you can wring out every horsepower with total confidence! The specially calibrated controllers are designed for retrofit installations in older vehicles, for easier and quicker installation – and more importantly – operation without the need for third-party tuning.
The Connect & Cruise lineup even includes several emissions-compliant E-ROD systems in both automatic and manual.
We did the work to design and calibrate perfectly matched powertrain systems and covered them with a 24-month / 50,000-mile limited warranty.
Chevrolet Performance pioneered the performance crate engine, so when it comes to performance innovations that save time, money and guesswork, we once again lead the way! All you have to do is install, connect, and start cruising!
NOTE: All components, engine, transmission, torque converter and controllers are ordered and delivered separately.
ZZ572/620 Deluxe (621 hp) Connect & Cruise Powertrain System with 4L85-E Automatic Transmission
CPSZZ5726204L85E System Components:
19331583 Engine
19300175 Transmission
19299805 Torque Converter
19332780 Transmission Controller
19332784 Transmission Install Kit
Big Block Performance with Big Displacement
Proving the adage that there's no replacement for displacement, the ZZ572/620 is the ultimate expression of Chevrolet Performance's engineering capability, wrapped up in a soul-stirring combination of performance and attitude. Chevy builds the ZZ572/620 with huge 4.560-inch bores and a 4.375- inch stroke to help it deliver 621 hp and a stunning 645 lb.-ft. of grunt!
Strength comes from a latest-generation tall-deck block casting with four-bolt main caps and an all-forged rotating assembly. High-flow aluminum rectangular-port cylinder heads with massive 310cc intake passages, 118cc raised exhaust ports and 118cc combustion chambers process tremendous airflow. A hydraulic roller camshaft with an impressive .632/.632-inch lift and 254/264-degree duration specifications optimizes the airflow volume enabled by the large-port heads.
Chevrolet Performance delivers this Big-Block with an 850-cfm carburetor, HEI distributor, aluminum water pump and distinctive orange powder- oated valve covers that proudly proclaim the 572 legend.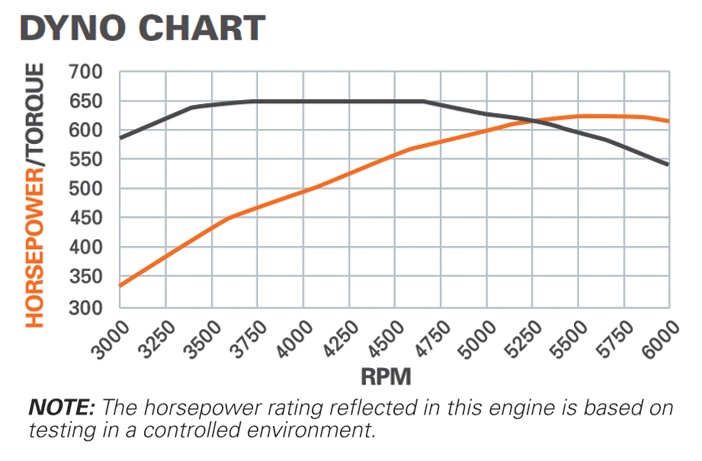 ZZ572/620 Deluxe Connect & Cruise with 4L85-E Transmission
ZZ572/620 Deluxe Connect & Cruise with 4L85-E Transmission
Chevrolet Performance Connect & Cruise Powertrain Systems include a 24-month or 50,000-mile (80,000 kilometer) limited warranty on all components.
This product qualifies for a $500/$750/$1,000 Rebate from Chevrolet Performance.
To receive the rebate:
Purchase a select Chevrolet Performance Connect & Cruise System between 1/1/2023 and 12/31/2023
Complete all information requested on this form and mail it by January 31st, 2024, OR
Submit your rebate online at www.gmpartsrebates.com before the same deadline
See rebate form for more details.
NOTE: Please allow up to 6-8 weeks for rebate processing.

WARNING
: These auto parts can expose you to chemicals including phthalates and lead. Installing or using these parts can expose you to other parts containing these chemicals and to engine exhaust, which are known to the State of California to cause cancer and birth defects or other reproductive harm. For more information go to
www.P65Warnings.ca.gov
.