Sale!
LSX Crate Engine – Chevrolet Performance LSX376 B15 6.2L Gen IV Small Block Engine
473 hp @ 6,000 rpm/444 lb.-ft. @ 5,000 rpm
High-flow LSX-LS3 6-bolt rectangular-port heads
LSX Cast iron 6-bolt block
Customize with your own intake manifold and other accessories
Due to world events we are working with our manufacturers every day to ship and receive parts. If the part you are looking for is time sensitive please give our team a call at 855-806-1147 before ordering to ensure it's availability.
LSX376-B15 Crate Engine
Built for boost – and a lot of it.
Karl Kustoms LSX376-B15 crate engine is the perfect – and surprisingly affordable – foundation for a supercharged or turbocharged monster build. With 473 hp and 444 lb.-ft. of torque on tap in a naturally aspirated configuration, the LSX376 Gen 4 small block is already a force to be reckoned with even without forced induction. 
However, built with a forged steel crankshaft and connecting rods, and forged aluminum pistons, Chevy engineered the rotating assembly to handle a massive 15 PSI of boost. So, turn up the wick, this LS can take the heat. The LSX376-B15 also features:
High-flow rectangular port LSX cylinder heads with six-bolt attachment

Forged internals capable of turning at a 6,600 rpm redline

473 naturally aspirated hp at 6,000 rpm

444 naturally aspirated lb. ft. of torque at 5,000 rpm
What's Included
Karl Kustoms delivers the LSX376-B15 without an intake manifold and other accessories, allowing you to tailor the induction system and other features to suit the forced-induction setup of your choice.
Important Information
Designed for

pre-1976

street vehicles or any off-road vehicle

Not intended for marine applications

You do have a strong transmission and rear axle, don't you? Can we suggest a Karl Kustoms

SuperMatic 6L80-E Automatic Transmission

that can handle up to 650 lb.-ft. of output torque?
Installation Notes
Assembly shipped without intake manifold or oil pan (dust shield installed for shipment)

Assembly does not include any electronics

Requires LSX Ignition Controller (P/N 19171130) for carbureted applications

Includes LSX 8-bolt crank flange

Recommended max boost – 15 PSI
LSX376-B15 Crate Engine Tech Specs
P/N 19355575
473 hp @ 6,000 rpm / 444 lb.-ft. @ 5,000 rpm
Engine Type:

LSX-Series Gen IV Small-Block V-8

Displacement (cu in):

376 cu in (6.2L)

Bore x Stroke (in): 4.065 x 3.622 (103.25 x 92 mm)

Block (P/N 19260095): LSX cast-iron with 6-bolt, crossbolted main caps

Crankshaft (P/N 12603616): Forged steel

Connecting Rods (P/N 12604857): Forged powdered metal

Pistons (P/N 19259381): Forged aluminum

Camshaft Type (P/N 12638426): Hydraulic roller

Valve Lift (in): 0.560″ intake / 0.555″ exhaust

Camshaft Duration (@0.050 in): 210° intake / 230° exhaust

Cylinder Heads (P/N 19354243)

LSX-LS3 rectangular port; with "as cast" 68cc chambers and 6-bolt attachment

Valve Size (in): 2.160 intake / 1.550 exhaust

Compression ratio: 9.0:1

Rocker Arms (P/N 12669995 int): Investment-cast, roll trunnion
Rocker Arms (P/N 12681275 exh): Investment-cast, roll trunnion

Rocker Arm Ratio: 1.7:1

Recommended Fuel: Regular Pump

Maximum Recommended RPM: 6,600

Reluctor Wheel: 58x

Balanced: Internal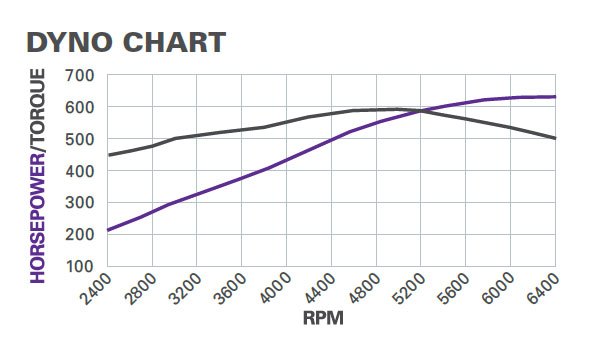 Chevrolet Performance Crate Engines carry a 24 Month or 50,000-mile warranty (whichever comes first) when installed by a qualified independent service center. Chevrolet Performance Crate Engines also come with a 30-day start-up warranty (parts only).
There are some additional limitations on the warranty – please see the official GM warranty documentation for more information.

WARNING
: These auto parts can expose you to chemicals including phthalates and lead. Installing or using these parts can expose you to other parts containing these chemicals and to engine exhaust, which are known to the State of California to cause cancer and birth defects or other reproductive harm. For more information go to
www.P65Warnings.ca.gov
.