The Karl Kustoms Crate Engine Program
At Karl Kustoms, we know dirt track engines quite well. We've been building championship-proven engines and selling Chevrolet Performance dirt track engines for decades. In fact, we've been around the whole time these crate engines have been used for racing. We know these engines like the back of our hands.
If you buy a turn-key Chevrolet Performance dirt track engine from us, we'll put it through our Crate Engine Program. The program oversees every step of the process.
---
---
1. Preparing And Testing The Engine
Once we get a Chevrolet Performance dirt track engine from GM, we prepare and test it. Before we dyno test a crate engine, we thoroughly review it and see what it needs. For example with the 602 crate engine, we have to add the following parts before dyno testing it:
Oil filter
Oil filter adapter
Spark plugs
Motor oil and other fluids
The 604 crate engine already comes with all that stuff (except the fluids, of course).
Next, we prime the engine and check the top dead center. That includes resetting the valves. While doing this, we follow sanctioning body guidelines. That includes using IMCA (International Motor Contest Association) seals. These seals can be found throughout the entire engine, including:
Pan
Front cover
Intake manifold
More
We also use actual GM seal bolts throughout the engine. We strictly follow sanctioning body guidelines to ensure that our customers don't get in trouble with their own sanctioning body. That's why we make a point to use the highest quality, fully compliant seals and bolts.
When we're ready to dyno test the engine, we break it in first. That includes making sure all the rings are sealed, finding out its ideal power output, and so on. We dyno all our dirt track engines with our dyno carburetor.
2. Installing Accessories
When you order a Chevrolet Performance dirt track engine from us, you can buy select accessories or a full accessory kit. You can either install them yourself or have us install them for you. For example, with one of the 604 crate engines we sold recently, the customer had us install:
Water pump
Pulleys
Fuel pump
MSD distributor
Wires
If you have us install the accessories on your new engine, we'll dyno test that motor with everything on it. We always make a point to ensure that all the accessories are working right with the engine.
We have years of experience working with Chevrolet Performance dirt track engines. That means we have a good handle on what works and what doesn't work with this engine. Whether you want to convert from an open engine to a crate or you want to buy a brand new crate engine, we have the parts and expertise you need.
Switching To A Crate Engine From An Open Engine: What You'll Need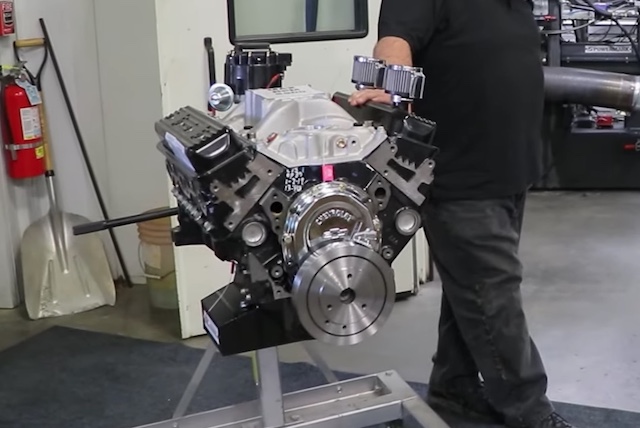 While we're on the topic of accessories, we'd like to discuss switching to a crate engine from an open engine. Your new crate engine isn't exactly going to be a drop-in engine. You'll need to change some of your accessories. To be more specific, you'll need a different:
Flywheel
Crate engine header (because the ports are raised a little bit)
Water pump
Pulleys
Fuel pump
Crate engines have one piece rear main seals. Most open engines come with the old style two-piece rear main seals. That means they come with a different bolt pattern. The new crate engine needs to be externally balanced on the back.
Why A Chevrolet Performance Dirt Track Engine From Karl Kustoms Delivers The Most Value
At Karl Kustoms, we're an industry leader for crate engines. You'll get much more value for your money with us than another shop. That's because:
We have extensive experience working with dirt track engines. We've built and dynoed hundreds, if not thousands, of these engines.
Many of our employees, including Steve Borts, have raced with our dirt track engines. (We also sponsor dirt racing events like the Bristol Dirt Nationals!) So we constantly get feedback from them. Our first-hand experience with these engines has enabled us to work out the kinks early on.
We offer reasonable pricing.
We offer top-notch customer service.
Whether you want to run an open engine or a crate engine, our guys can take care of you. Give us a call today!